Sunday 28 March - Sunday 25 April (missing Easter Sunday) | 4 Week course |08:00 -09:00 | R400 for the course |101 Barry Hertzog Ave, Emmarentia
Through the ancient practice of yoga, you will be given a tool to heal & strengthen your body; bring clarity of mind; and encourage an overall calmer disposition within your life. We, at The Art of Movement, have found that these benefits can be experienced in several forms of yoga, but we are particularly passionate about sharing yoga in its absolute fullness. We will teach yoga poses, as well as yogic philosophies, yogic breathing & meditation.
In this 4 week introductory course you will be exposed to the fundamental philosophies & different approaches of the four yoga styles that we encourage. On completion of this course, we guarantee that you will be able to join any of our existing classes with confidence. Furthermore, you will have the ease of mind knowing you are going to a style of yoga that works best with your style & needs. Once you know where you are at, you can begin a steady yoga practice, enhancing your quality of life through the timeless effects of yoga.
Class Logistics: 
We meet every Sunday. Dates to note: We are missing Sunday 4th April as it is Easter Sunday 
In this 4 week beginners yoga course you will learn:
This course is perfect for you if you are:
PHOTO GALLERY OF YOGA CLASSES AND WORKSHOPS AT OUR STUDIO: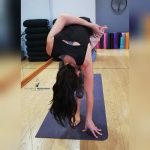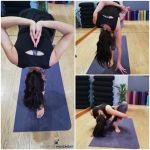 About the Art Of Movement
Hi lovelies 🙂 My name is Kelly.
I'm a passionate dancing and yoga teacher, as well as the owner of The Art of Movement. My yoga journey began when I was 14, when I attended my first meditation course. I fell in love instantly with meditation and everything it has to offer. About two years later, I began a daily hatha yoga practice at 5:30am before heading to school. Once heading to University to study English Literature & Philosophy, I started exploring the world of Vinyasa yoga and eventually Ashtanga yoga which I fell in love with. My yoga journey eventually led me to practicing Jivamukti, Sivananda & Yin Yoga. Once I started teaching full-time (about 9 years ago), I dove into a pranayama practice (yogic breathing), and immersed myself in the ancient yogic philosophies, and again fell in love with it all.
Overall, I am passionate about everything yoga, from the philosophies, to the asanas, to the meditation. They have all made a massive impact on my life & I wish to share the yogic way with all of the souls that cross my path
The Art of Movement is a dance and yoga studio in Emmarentia, Johannesburg established in 2012. We boast a busy timetable of dancing and yoga for both children and adults. Our yoga practitioners enjoy a wide variety of daily classes including Hatha, Vinyasa, Ashtanga & Restorative Yoga.Our dance specialities include ballet, modern, contemporary, hip hop, tap and salsa for children and adults. We follow the Imperial Society of Teachers of Dancing syllabus and partake in competition, exam and show work. 
Our physical address:
101 Barry Hertzog Ave, Emmarentia, Randburg (look for the bright green wall)